We currently have two ongoing productions, Musicality in January and Fiddler on the roof in MArch! Read on…
Musicality

Directed and choreographed by Jason Allen Lane
Saturday 18th January 2020 at the Radlett Centre
Evening & Matinee performances
Following the success of last year's One Night Only,  this year's musical extravaganza is bigger and better than before and will have you clapping and singing along to some of your most-loved songs from new musicals to timely classics from the West End, all mixed up with a selection of current pop music.
Book your tickets here.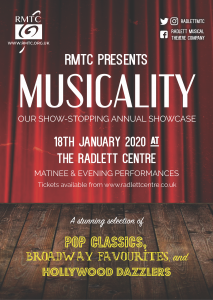 Fiddler on the Roof
Music by Jerry Bock
Lyrics by Sheldon Harnick
Book by Joseph Stein
24 – 28 March 2020 at the Radlett Centre
One of the most popular musicals ever written, Fiddler on the Roof is back to delight audiences of all ages.  Featuring major hit songs including If I Were a Rich Man, Sunrise Sunset, and Matchmaker.  In a Jewish settlement in 19th Century Russia Tevye's daughters find love in a way that disrupts his ordered view of the world. Amidst a backdrop of pogrom riots,  this story of romance, persecution and the inevitability of change makes for an unforgettable evening.
Get your tickets here.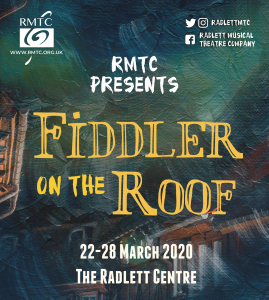 We are delighted to announce our cast as follows:
Tevye…. Steve Brown
Golde…. Issy Wiggins
Tzeitel…. Kim Davidson Rabin
Hodel….. Saskia Hirsh
Chava…. Katie Willmott
Shprintze….. Leila Hoch and Danielle Zilberman
Bielke….. Poppy Polivnick and Emma Zilberman
Lazar Wolf…. Richard Kessel
Yente…. Rebs Binstock
Fruma Sarah….. Georgia Dove
Grandma Tzeitel…. Diane Breckon
Nachum…. Jason Lane
The village children
Sadie Franklin
Ariella Polivnick
Katie Smullen
Codi Garnelas
Sidney Mittleman
Lucy Polloch
Jess Binstock
Beth Bookatz
Jayden Seder